product details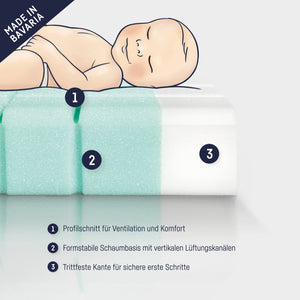 mattress core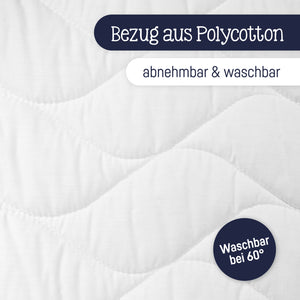 mattress cover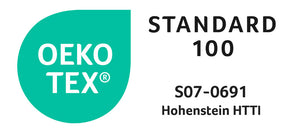 OEKO-TEX Standard 100
Tested for harmful substances
All materials used are tested and certified by OEKO-TEX according to the standards of the standard 100, class I.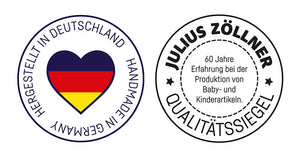 Made in Bavaria
From the mattress cover to the foam core to the final packaging. All manufacturing steps are carried out in our factory in the middle of Germany. We have been proud of our craft for over 60 years.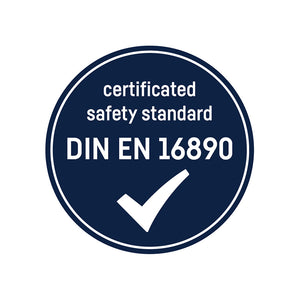 DIN EN 16890
The European standard specifies safety requirements and test methods for baby and children's mattresses. All Julius Zöllner mattresses are manufactured in accordance with the standard specifications and tested regularly.
What must be considered when choosing the size of the mattress?
The dimensions of our mattresses are adapted to the standard of children's beds. There must not be a gap of more than 3 cm between the mattress and the bed, in length and width. With a mattress size of 140x70cm, the bed must not be larger than 143x73cm.
Why is the mattress packed rolled up?
We want to transport our mattresses safely and in an environmentally friendly manner. Due to the compact format of the rolled mattress, we save up to 50% of the CO2 emissions generated by transport.
Does the mattress need to air out before use?
All materials used are certified according to Standard 100 by OEKO TEX and are absolutely harmless. However, we recommend letting the mattress air out 48 hours before use.
Does the cover need to be washed before use?
No, it is sufficient to let the mattress air out. For reasons of hygiene, we recommend the use of fitted sheets. These can be washed quickly and easily.
Which safety-relevant instructions have to be observed?
Never use more than one mattress in the cot, crib or hanging cradle.
It is important to ensure that the cot (crib and hanging cradle) is not placed near open fire or sources of strong heat, e.g. electric heaters, gas stoves, etc.
The mattress may no longer be used if individual parts are broken, torn, damaged or missing. 
The plastic packaging must always be kept out of the reach of children or disposed of as recycling waste.
What do I have to consider when cleaning the cover?
Our mattress covers can be machine washed at up to 60°C. We recommend special detergents for babies without fragrances. The mattress cover can be tumble dried or gently air dried. The cover should not be put back on until it is completely dry.
The cover must not be dry cleaned or ironed.
How do I clean the mattress core?
In this case, the mattress core should be dabbed with a damp cloth. It is important to ensure that the inner cover is not damaged and that the mattress does not become soaked with moisture. Before the mattress cover can be put back on, the foam core must be completely dry.
The perfect accessory - Julius Zöllner fitted sheets
Accessories for your Julius Zöllner mattress