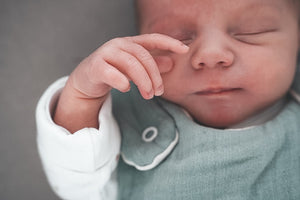 Julius Zöllner baby sleeping bags
Our sleeping bags keep pleasantly warm and ensure quiet and relaxed nights. Find the perfect sleeping bag for any age and season.
- Especially for newborns -
The first sleeping bag must be particularly easy to open. The diaper can also be changed in sleep.
- For the whole year -
The pleasantly warm fed whole year sleeping bag (2.5TOG) can be used all year round. The soft inne material and the protected zipper guaranteed cuddly nights.
- summery light -
The light summer sleeping bags (0.5 TOG) are processed without food and keep comfortably warm in hot summer nights without the baby sweating.
- For the first adventures -
If the sleeping bag interferes with the first walking attempts, but the bedcloth does not yet remain where to. The jumper also keeps pleasantly warm and allows first adventure on foot. Available with warm air fleece or as a light variant for the summer.